Analyzing "holistic" admissions assessments with our algorithm.
It's no secret that the college admissions evaluation process is no longer just based on your GPA and test scores. Admissions officers increasingly rely on subjective, soft factors to determine your admission criteria – this is known as the "holistic" approach.
The holistic review process is why we often see many valedictorians and students with near-perfect standardized test scores getting denied from various colleges, while others with lower scores gain admission. Scattergrams that show GPA and SAT or ACT levels of accepted and denied students, therefore, only tell part of the story; these figures cannot answer questions such as:
"Beyond the quantitative factors, what did accepted students do to set themselves apart from the pack?"
"How would admissions officers at various colleges assess my chances based on my qualitative factors?"
"What are areas of my candidacy that can be strengthened to increase my chances?"
"What are alternative schools or pathways I can consider if I want to diversify my options"
With Beacon, we went beyond simply analyzing the quantitative datasets of applicants who were accepted or denied; we spent over 7 years developing our algorithm based on tens of thousands of real successful (and unsuccessful) applications submitted to 1000+ universities in the United States with the expert input of a team of admissions officers from top colleges, including Harvard, Princeton, Stanford, MIT, Columbia, Penn, Cornell, Amherst, UChicago, Washington University in St. Louis, Duke, Barnard, and many more.
The expert component of our algorithm takes into account individual college-specific criteria regarding application review patterns, admissions systems and committee structures, assessment scales used for GPA and standardized test scores, evaluation methods for activities and awards, the importance of interest factor and school supplement essays, descriptions of ideal applicants, and other factors for making a final admissions decision.
1) How do admissions officers review applicants' credentials?
While the review process differs at each school, most former admissions officers reviewed each applicant in the following order:

Many former admissions officers emphasized that they "look beyond the GPA" in the transcript, to see that the applicant has been challenging him or herself by taking challenging courses. Furthermore, since a majority of applicants have sufficient scores, it is important to show "distinguishing excellence" through unique activities and awards.
2) How is the admissions process structured?
The admissions process and structure can differ by college. However, many colleges had the following structure to select qualified students.

In addition, there are three common evaluation areas in the point/rating system used by admissions offices at some top universities.

The rating system may vary at each school. Some use a rating of scale of 1-8, 8 being the strongest, while others have rating system of 1-9 or 1-3, where the "Personal Rating" and the "Activities Rating" are sometimes merged into one category called "Non-Academic Factors."
3) Evaluation of Standardized Test Scores
Colleges typically do not specify minimum standardized test scores for applicants (except for TOEFL scores for international students). However, many former admissions officers have mentioned that there is a certain level of scores expected or commonly accepted depending on the college. They are as shown below.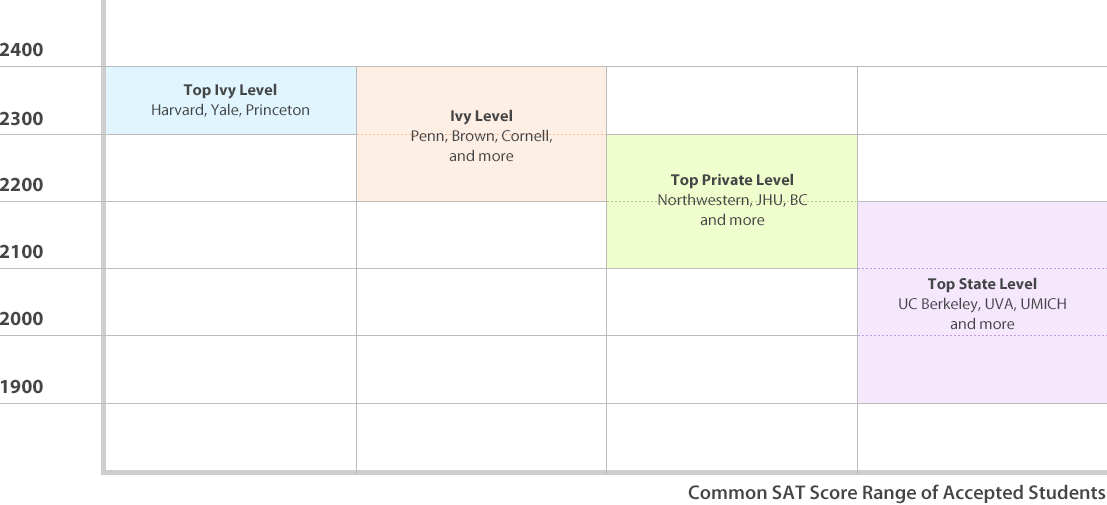 4) Majors, Activities, and Awards
Example of Major Specific Awards & Programs
mentioned by Former Admissions Officers
ISEF (Engineering)
International Summer School for Young Physicists by Perimeter Institute for Theoretical Physics (Physics)
Concord Review (History)
DECA (Business)
International Public Policy Forum (Public Policy)
Harvard Collegiate Economics Challenge (Econ)
World Scholars' Cup (Multiple Subjects)
NSPA (Communication/Journalism)
Example of Well-Rounded Awards & Programs
National Honor Society
Honor Roll
National Merit Scholarship
AP Scholar with Distinction
100%
of the former admissions officers surveyed answered that major compatibility played an important factor in assessing an applicant. A former Stanford admissions officer mentioned that a student could apply as "Undecided." However, being "uninterested" in any particular ademic area could hurt his or her chances of acceptance. Another former admissions officer mentioned, "Being well-rounded was not a big strength. This is why National Merit is not as impressive as an award from science, engineering, or literature competitions."
5) Interest Factor
In terms of interest factor for a given school, many answered that schools with high yield did not care as much about the student's willingness to attend the school. Prestigious universities seemed to be more focused on selecting the most talented applicants. On the other hand, schools with a lower yield cared much more about the applicant's interest factor, as often seen through their essays.

Our in-depth research with admissions officers, along with contributions from experts in education technology gave birth to Beacon, a patented system that will help applicants assess themselves as admissions officers would, while giving them the tools and guidelines to upgrade their credentials to be the best applicants they can be.